ABOUT The Timken Company engineers, manufactures and markets bearings, gear drives, belts, chain, couplings, lubrication systems and related products, and offers a spectrum of powertrain rebuild and repair services,it is a world-leading manufacturer of bearings and mechanical power transmission products.As the leading authority on tapered roller bearings, we apply our deep knowledge of metallurgy, tribology and mechanical systems to improve the reliability and efficiency of equipment, machinery and vehicles worldwide. With more than 17,000 employees operating from 33 countries, our associates and our products keep industry in motion and make the world more productive.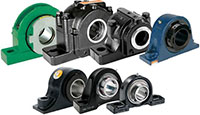 Housed Unit Bearings
Timken offers one of the broadest ranges of rugged housed units for spherical, tapered and ball bearings. For spherical bearings, select from solid-block steel housings and split-block (SNT/SAF) cast-iron housings. To protect bearings in dirty and contaminated environments, Timken offers a variety of sealing and end cover options.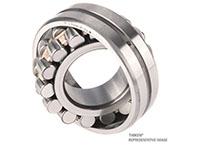 Spherical Roller Bearings
Spherical bearings are designed to manage high radial loads even when misalignment, poor lubrication, contamination, extreme speeds or critical application stresses are present.
Cylindrical Roller Bearings
Timken uses its 80 years of experience designing and manufacturing cylindrical roller bearings to continually advance performance across size ranges and configurations, including inch and metric and one-row, two-row and four-row designs.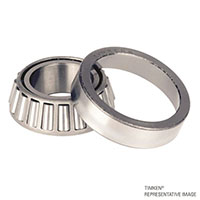 Tapered Roller Bearings
Tapered bearings are uniquely designed to manage both thrust and radial loads on rotating shafts and in housings. We manufacture nearly 26,000 bearing combinations – in single, double and four-row configurations. Customized geometries and engineered surfaces can be applied to these bearings to further enhance performance in demanding applications.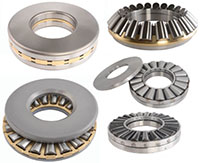 Thrust Bearings
Timken thrust bearings are designed specifically to manage thrust loads in a wide variety of industrial and automotive applications. We manufacture five basic designs of thrust bearings that include ball, crossed roller, cylindrical roller, tapered roller and spherical roller designs to meet full range industry applications.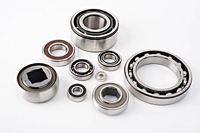 Ball Bearings
Ball bearings are used for high precision applications in a variety of markets, including aerospace, agriculture, construction, health, machine tool and general industry.

Plain Bearings
Precision Bearings